In the foothills of the Pyrenees, the horse breeding centre, Domaine de Sié.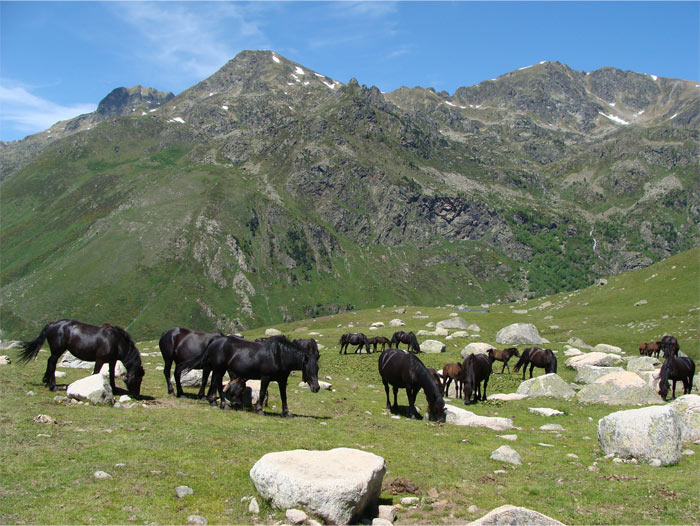 Our horse breeding centre is situated in the foothills of the Pyrenees in the hills near the medieval town of Mirepoix.
We are at ¼ of an hour from the motor way, 1 hour from Toulouse, and 30 mins from Carcassonne airport (Ryanair).
We raise our horses in the open air where they can roam freely .There are 20 selected brood mares ; foaling takes place in the meadows at the beginning of spring on our organic farm in a protected environment.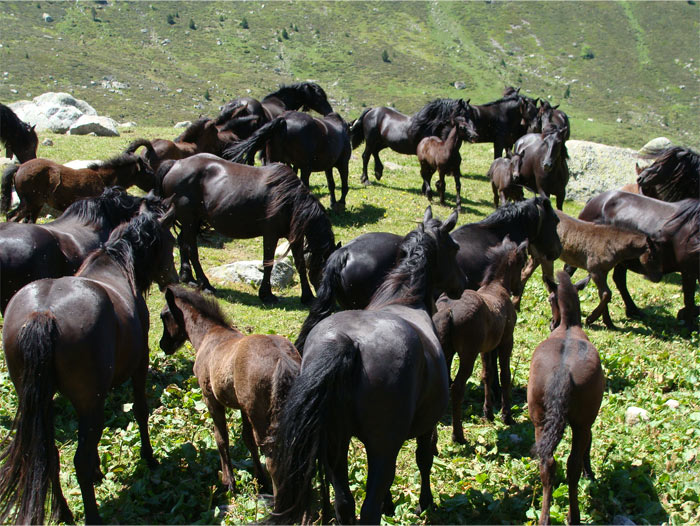 At the beginning of June, the mares leave for the summer pastures of Aston, more than 2000 m above sea level. There, over a 5 month period, the foals develop the characteristic health and hardiness of the Mérens breed .From the age of 2 ½ years the colts and the fillies are broken to saddle and to harness in anticipation of their future use. This is also the preparation for showing them at the well known breed championships that take place each year at the end of August in the village of Bouan in the Ariège, the true cradle of the breed.
Numerous trials develop the ability of the stallions under the saddle and in harness before they are strictly judged in their class (competition-stallion trials). Similarly, the mares and the geldings must meet the "three years mounted "standard and the "leisure qualification" standard. This is organised by "SHERPA" and the National Stud (a competition has taken place at the Domaine de Sié since 2010).
The herd returns in early November. It takes 3 days on horseback to drive the mares and their foals back across the massif of St Barthelemy, the valley of the Douctouyre and finally to reach Mirepoix. The mares and the foals will then be separated : it's weaning time. At the beginning of winter, the foals start their training whilst the mares spend the cold season in the green hills with the Pyrenees on the horizon.
So the rhythm of our work with the horses is matched by the rhythm of the seasons throughout the year.